Welcome
Welcome to the Blacket Association website. The Association is a voluntary group set up to maintain and enhance the area comprising the 'five streets', namely Dryden Place, Blacket Place, Blacket Avenue, Mayfield Terrace and Alfred Place. The primary aims of the association are to:
Represent the views of residents and encourage them to feel part of the Blacket community (see The Committee for further details)
Protect and enhance the amenity of the area (see The Committee for further details)
Represent Blacket in relevant forums in the wider community e.g. on the Grange & Prestonfield Community Council and more widely in communications with the City of Edinburgh Council
Record the history of the area for current and future residents e.g. the History of the Blackets and the Architectural Guide to the Blackets
The Association is run by a small group of elected residents (see The Committee for details of who they are, and their areas of responsibility). Some of the things the committee do on behalf of the Association are: run the Neighbourhood Watch scheme; keep people up-to-date with what is going on (through newsletters, the website and circulation of emails that may be of interest to residents); organise social events; review planning applications; work on the common garden areas; liaising with relevant authorities with regard to parking, traffic, street lighting, roads and other such matters.
Please Join Us
Membership of the Blacket Association is open to all residents of the five street, and also to anyone that has an interest in the area; for example former residents, or individuals living in the surrounding area. Please see the 'Join or Contact Us' section for further information.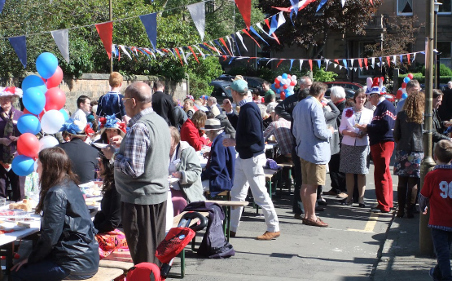 2012 Jubilee street party on Alfred Place
Acknowledgements
Material sourced for this website includes the 1971 Adventure Trail leaflet (with sketches by Frank White), the 1992 Architectural & Historical Guide (text by Rebecca Bailey, illustrated by Michael Beanland) and 1999 Guide for Residents. Also, invaluable information contained in Charles Smith's books on South Edinburgh, held in Newington Library, and more recently published in single volume by Birlinn Ltd. Finally, a number of websites, and particularly that of the West Blacket Association, which is particularly informative in relation to the western section of the Blacket Conservation area. Thanks also to Lindsay Johnston for the creation of some of the graphics on this website.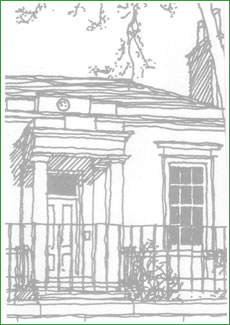 If you would like to get more involved in the Association and have knowledge or expertise in a particular area which is relevant to its work then we would like to hear from you.