Events
Upcoming events are as follows:
2nd February 2021 - next Committee Meeting. Held approximately four times a year. See The Committee for meeting minutes.
Given the restrictions on social events given COVID-19, further plans are currently on hold until government advice allows otherwise.
For Sale
The following cards can be purchased- all proceeds go to the Association (Contact Us for further information):
The Blackadder Orchid card- an orchid found growing in the shrubbery of Blacket Avenue, sketched in situ by Dame Elizabeth Blackadder and later produced as a painting.- £1.25 each, £5 for 5, or £90 for 100
The Blacket Pillars card- a pen-and-ink sketch by Catherine Gerrard, a previous resident of Mayfield Terrace and past Chair of the Association. £1.25 each, £5 for 5, or £90 for 100
Noticeboard
The following items can be borrowed by our members for their own use (Contact Us for further information):
Snow Shovels
A Gazebo- Approx 4m x 3m in size
The Blacket Wall Hanging- An embroidered hanging donated by Rosemary Plum formerly of 44 Blacket Place
Engraving- A picture from 1826 and donated by Joan Weir formerly of 31 Blacket Place.
Newsletters
For current and past newsletters, see the following links: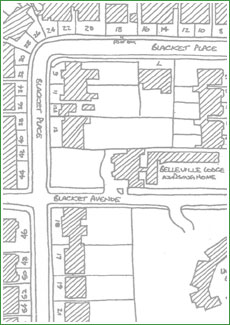 Please let us know if you have any ideas for future events.