History of the Blacket Conservation Area
Find out more about early development in the lands of Newington, Benjamin Bell and Newington House, plans for the new streets in the Blacket area, feus and feuing conditions in the Blackets, the Blacket lodge keepers, the choice of plants for Blacket shrubbery, planning and local infrastructure issues in the Blacket area. Read more...
Interesting houses and residents
Find out more about Newington House, other Grade A listed buildings in the Blacket conservation area, Grade B and Grade C listed buildings and buildings of interest across Dalkeith Road and across Minto Street as well as some famous residents that have lived in the Blacket area. Read more...
The origin of street names in Blacket
Many of the place names in the area owe their origin to the Bell family. Indeed, Bellville was the colloquial name for Newington prior to the area's full development. Read more...
Observations by Blacket residents past and present
Alison Bradley [Lamb]
The Lamb family (first my grandparents and subsequently the next generation and their two children lived at 14 Blacket Place from about 1936. My own memories date from around 1944 (age five). Read more...
The Five Streets in the twentieth century
Mayfield Terrace, Alfred Place, Blacket Place, Blacket Avenue and Dryden Place exist in a peaceful enclave between two main roads. There are original stone pillars at four of the five entrances. Many of the buildings are listed and are referred to in detail in architectural and historic guides to the city as well as in the History of the Blacket Association Area elsewhere on the Blacket Association website. However this article celebrates the people who have lived here during the twentieth century and records some of the experiences of the community during this period. Read more...
An Architectural Trail of the Blacket Area
Sketches by Frank White (Blacket Association) original 1992; revised 2017
Ignore the starting point on the plan and instead sit on the wooden bench in Dalkeith Road by the Royal Commonwealth Pool bus stop. The study area lies opposite, on the other side of Dalkeith Road. From the wooden bench tou can see the simple, well proportioned front and pillared entrance of 58 Dalkeith Road (1812) opposite. Conversion to public house Read more...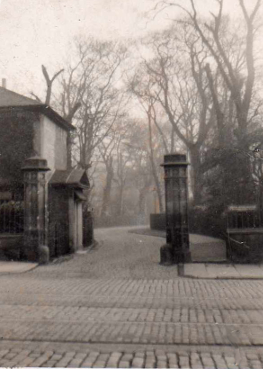 The east entrance to Blacket Avenue from Minto Street. Probably pre-1920.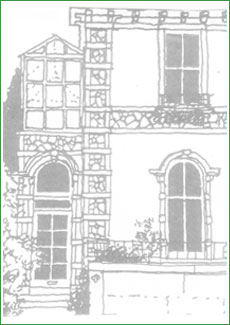 History section references:
* text provided by Hugh Mackay
* text provided by Alison Lamb
* text file provided by Ian Chisholm
* text from 'The Blacket Association: A Guide for Residents', published by the Blacket Association 1999
* text from 'Blacket Conservation Area Character Appraisal', published by the City of Edinburgh Council 2001